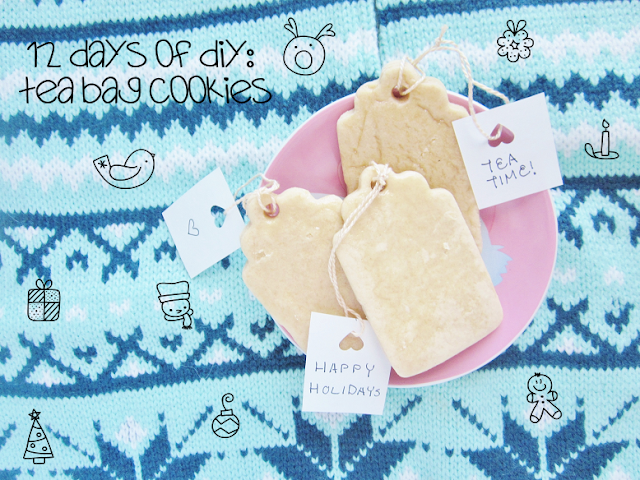 On the fifth day of 12 Days of DIY, I made this for you, tea bag sugar cookies! I've had this idea to bake vegan sugar cookies for a while. Then I got another idea to make tea bag-shaped cookies so I meshed both of my ideas together to make this scrumptious recipe! I
used this recipe
but I added my own twist. I used different milk which may have resulted in a different taste, texture, and directions. I also included a glaze that you can coat the sugar cookies in. The cookies aren't too sweet so the glaze adds a nice touch to the simple taste. They will still taste amazing with or without the glaze, especially paired with a cup of your favorite tea!
Ingredients (makes 20-30 cookies)
– 2 1/3 cups of flour
– 1 tsp of baking powder
– 1/2 tsp of salt
– 1 1/2 cups of powdered sugar
– 1/3 cups of melted coconut oil
– 1/3 cups of almond milk
– 2 tsp of vanilla extract
– 1-3 tsp of water (optional)
Instructions
1. In a medium bowl mix the flour, baking powder, and salt together.
2. In a large bowl beat together the rest of the ingredients.
3. Combine the flour mixture as you beat in the ingredients.
4. After 1-2 minutes of beating a dough should start to form (If not, add 1-3 tsp of water). Take out dough and roll into a ball. Wrap with plastic wrap and pat down.
5, Place in the refrigerator and chill for 15-30 minutes. Overnight may be better.
6. Preheat your oven to 360 degrees. Line baking sheets with parchment paper.
7. On a counter (or wide space area) take out a piece of plastic wrap and place the cookie dough in the center. Layer another piece of plastic wrap over the dough. With a rolling pin roll out the dough. Roll the dough as thick as you want your cookies.
8. Cut out tea bag shapes. I used
this cookie cutter
. Then use a straw to cut out the tiny holes.
9. Bake cookies for 7-8 minutes.
10. Take the cookies out of the oven and let them cool before devouring!
Glaze
– 1/2 cup of almond milk
– 1/2 cup of powdered sugar
1. After cookies have cooled down. Mix the milk and powdered sugar together with a whisk.
2. Using a basting brush to apply the glaze over the cookies.
3. Let dry and they are finally ready to eat!
Tea tags
– Pen
– Paper
– Hole punch (I used this heart hole puncher I got from Michael's)
– Scissors
– Tread or twine
To create the tea tags I cut a square from a piece of paper. I then hole punched a hole on the center top of the paper. Next, write whatever you want the tags to say. I wrote various things like 'happy holidays', 'tea time', 'for you', etc. Finally, weave the thread through the hole and double knot. weave the tag through the sugar cookie's hole and you are done!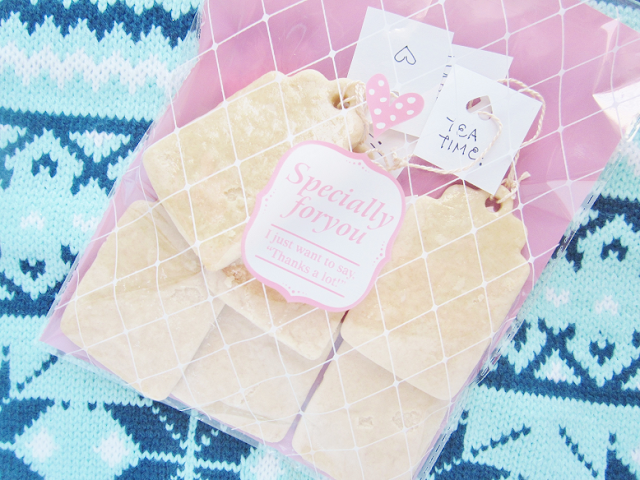 You can add a few cookies into a decorative bag like I did here and give out as holiday gifts. These sugar cookies are the perfect cookie to have with a cup of tea!
What's your favorite type of cookies?